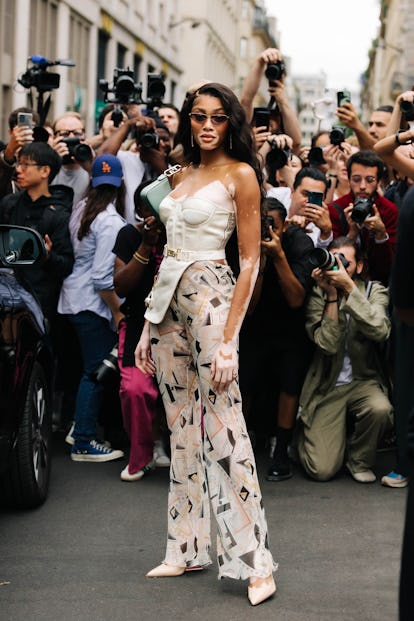 Another fashion week came and went. On July 3, the Paris shows kicked off with the Spring/Summer 2023 ready-to-wear collections from Paco Rabanne, Patou, and Alaïa before heading into the couture shows of Schiaparelli, Balenciaga, Fendi, and more. But this roundup is less about the shows themselves as it is those who are attending them, as the best street style at Fall/Winter 2022 Couture Week is rife with chic outfit inspiration.
To give you an idea of what the vibe turned out to be, here's what happened: Social media showed acrobatic entertainment and a lavishly elegant dance party thrown by Chaumet, a luxury French jewelry and watch label. And, on the runway of Patou, there was a myriad of airy, elegant garb mixed with mini dresses and crop tops in a coordinated palette, as well as an appearance from Julia Fox in a sharply contrasting, printed bodycon number. The most high-profile attendees went through multiple outfit changes to attend various shows throughout the day, making for an even bigger pot of looks to siphon inspiration from.
Here are their looks, which include a mix of serious suiting, ultra casual streetwear, and old Hollywood aesthetics. Don't miss the canny mélange of these with this year's low- and high-key trends, such as platform heels, bold bottoms, and coordinated sets.
Ahead, see below the street stylers who lured the lens this week.
Day 5
On the last day, Winnie Harlow appeared at the Fendi show in such a nostalgic, Y2K-inspired look — an asymmetrical corset top with printed pants and coordinated, blush-colored pumps.
For others in the streets of Paris, plaid-on-plaid was the look du jour.
This couple continued their matching streak in leathery looks.
This street styler made color-blocking look effortless in this relaxed ensemble.
A guest at Fendi paid tribute to the label by wearing its F-shaped earrings.
This street styler's breezy frock was so effortlessly chic.
Sarah Monteil wowed in a layered look.
Veronika Heilbrunner showed off her bump by wearing an open short-sleeve shirt with a Versace bralette and low-waisted jeans.
Another street styler was similarly casual in a plaid button-down look.
Here, a lesson in low-key luxury with Balenciaga's Hourglass Graffiti bag.
Day 4
On July 6, Chriselle Lim wore a semi-sheer, floral frock outside of the Elie Saab show.
Ellie Delphine was the picture of summer in a graphic printed dress. She made her whole look cohesive by matching the style's red roses to her strappy sandals and lipstick color.
For the Zuhair Murad show, Chloe Lecareux wore a sheer cutout dress in blue and accessorized with strappy sandals in silver and Y2K-inspired butterfly hairpieces.
These models matched in monochrome blue looks.
This street styler amped up the glow of her silky orange dress with subtle accents — a gold chain purse and flecks of gold on her face.
Cindy Bruna attended the Jean Paul Gaultier show in a cutout pinstripe suit.
This guest wore a pair of gold-tinted sunglasses to round out her frilly look.
This duo seemingly coordinated their outfits in neutral hues.
Here, a street styler played with proportions by wearing baggy trousers with a teensy tank top.
Candace Marie Stewart wore a white fringe dress, which she accessorized with matching mules, a handbag, and pearly baubles.
Day 3
Vanity Fair's Fashion Director Nicole Chapoteau looked chic and comfortable in a prim blazer, a crop top, distressed denim, and Birkenstock x Proenza Schouler sandals on July 5.
Sarah Monteil showed that sometimes, more is more, and rainbow colors can be worn cannily.
This guest showed off a surprise low-back outfit.
Several models offset the seriousness of their suiting with cropped tops and shorts.
This guest was a white, feathery wonder.
Jessica Wang's avant-garde suiting was the perfect complement to the roster of over-the-top shows.
This guest wore a semi-sheer, ruffled black top over a triangle bra in white for contrast.
Even in summer, there's room to bring textural elements into play. See the mix of crochet and faux fur in this look.
Here, the mix of high and low was marked. The street styler wore baggy, layered jeans and a tailored blazer. She accessorized with a bucket hat, pearls, multiple designer bags, and sandals over socks.
Two guests combined trends by wearing patchwork-based pieces with lace and pearls.
Day 2
Zoe Saldaña zoomed in on the lace trend on July 4.
All-black outfits were all over the streets of Paris, but the most distinct looks featured unique accessories. Here, a showgoer teamed her ensemble with architectural platform heels and an angular, woven bucket hat.
Don't underestimate the elegance of a button-down shirtdress, such as the one styled here with strappy metallic sandals and statement earrings.
Kudos to this street styler, who employed a "summer in the city" aesthetic, here. After all, there are no rules against wearing resort wear only when visiting a resort.
The bustier top trend isn't slowing down. This guest wore the piece layered under a sleeveless white shirt, with a coordinated midi skirt and black leather slides.
Coordinated sets were seen in several forms, not the least chic being this silky one in a serene green print.
This guest wore a look of various luxe textures in neutral hues and matched her lipstick to her clutch bag for even more dimension.
New to monochrome dressing? An all-black look is an easy place to start, as you can likely create it from staples in your closet. The above formula: a black suit, a black top, black mules, and matching accessories.
Candace Marie Stewart and Alioune Badara Fall's outfits emphasized clean lines and color-blocking for their respective outfits.
Cindy Bruna was seen wearing a ruffled midi dress in coral outside of the Giambattista Valli show.
Day 1
On July 3, Karlie Kloss made a catwalk out of the sidewalk in a highly glamorous, hooded white blouse, which she paired with smart, high-waisted pants in black and color-coordinated shoes and accessories.
Chriselle Lim incorporated similar notes of old Hollywood glamour, as well as this year's platform shoe trend, to attend the Paco Rabanne show.
This showgoer focused on two of this year's rising trends: bold denim silhouettes and PVC heels.
Jazzelle Zanaughtti made the case for a daring metallic dress, which can be balanced by bold accessories, such as knee-high leather boots and dad sunglasses, in a contrasting hue.
These two coordinated their outfits, both seemingly inspired by traditional African silhouettes and color combinations.
There is perhaps no other garment as instantly glamorous as a headscarf. See the accessory here with a solid knit dress for an understated appeal.
Coordinated sets can similarly serve as a shorthand method for looking put-together in a snap. They may also serve as a canvas for your accessories, such as a pair of statement shoes, an intricate belt, and a luxe-looking handbag, as seen here.
While traversing the streets of the city, Zita d'Hauteville looked like she came straight out of a 1950s Dior lookbook in a belted A-line skirt and sweater from Patou.
Ellie Delphine's look is proof that a minimalist outfit can make a big impact with striking accessories and a bold, red lip color.
Even in the height of summer, the power suit still reigns supreme. Style it for the season with a bralette, like here.
This article was originally published on